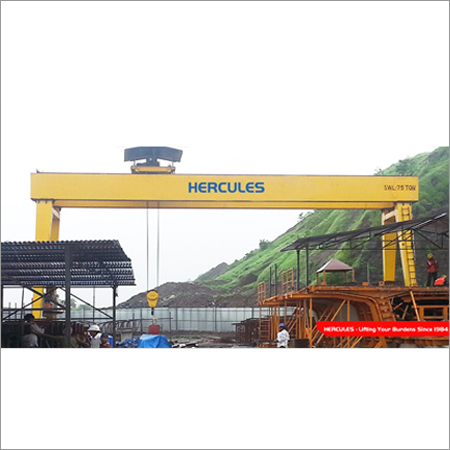 Gantry Cranes
Product Code : 10
Product Description
Gantry Cranes
Manufactured under the close supervision of a team of highly skilled experts, the Gantry Cranes we offer cater to the requirements of a wide range of industries. The cranes are built using precision engineered components such as bridges, electrical equipment, trolleys, etc., and a number of other superior grade materials. Designed to lift heavy loads, the cranes have a high lifting height and have gained recognition for their ease of operation, long service life, rust resistant structure that is suitable for less than ideal conditions. The cranes are offered to customers at cost effective rates that promise the most bang for the buck.

TECHNICAL DATA FOR DOUBLE BEAM Gantry Cranes
CAPACITY IN TONNES

SPAN IN METRES

HEAD ROOM CLEARANCEIN MM HRC

END CLEARANCE IN MM ELS/ERS

HOOK APPROACH IN MM HALS

WHEEL BASE IN MM

HOOK APPROACH IN MM HARS

WHEEL LOAD OF CRANE INTONNES (Approx.)

TOTAL WT OF CRANES IN TONNES (Approx.)

5

10

1600

250

900

3800

800

4.5

12

15

1600

250

900

4000

800

5

16

20

1700

250

900

4200

800

5.5

18

7.5

10

1600

250

950

3800

850

6

16

15

1700

250

950

4000

850

7

21

20

1700

250

950

4200

850

7.5

23

10

10

1800

250

1000

4800

900

7

17

15

1800

250

1000

4900

900

7.5

21

20

1900

250

1000

5000

900

8

23

15

10

2000

275

1000

5000

900

9.5

23

15

2200

275

1000

5000

900

10.5

27

20

2300

275

1000

5200

900

11.5

31

20

15

2400

300

1100

5200

900

12.5

30

20

2500

300

1100

5300

900

14

35

25

15

2600

300

1150

5200

1000

14.5

33

20

2800

300

1150

5400

1000

16

38

30

15

2800

300

1200

5200

1000

17

38

20

3000

300

1200

5400

1000

19

47

35

15

3000

300

1250

5200

1050

19

41

20

3100

325

1250

5400

1050

20.5

48

40

15

3000

325

1300

5300

1050

10.5

45

20

3200

325

1300

5500

1050

11.5

51

50

15

3200

350

1400

5000

1100

12.5

50

20

3500

350

1400

5200

1100

13.5

56

60

15

3800

400

1600

5600

1200

17

75

20

4000

400

1600

5800

1200

19

91

80

15

4000

450

1900

5600

1300

22.5

100

20

4200

450

1900

5800

1300

24.5

114

100

15

4200

450

1900

5800

1400

27.5

120

20

1500

450

1900

6000

1400

30

139

125

15

4200

450

2000

6100

1500

35

152

20

4500

450

2000

6100

1500

36.5

165

150

15

4300

450

2000

6200

1500

42

185

20

4600

450

2100

6200

1500

44

200
Salient Features of LIFT UP Gantry Cranes
I-Beam/Box type construction for Bridge Girders
A tapered plate design is incorporated for joining the end carriages to the griders thereby ensuring smooth flow of stresses.
The end carriages are incorporated with L.T. wheels machined out of En-8 forged blanks and mounted on 'L" type bearing housings with anti-friction bearings.
Specifications
The Lift Up Overhead Cranes are built to consistently high specifications confirmating to IS 807, IS 3177 and IS 4137 having possibly the best On Time Delivery record in the field.
High Efficiency

LIFT UP Equipments are designed for high speed operation to give increaded productivity.
Precision workmanship of all components minimises losses and increases efficiency.
Smooth Operation Ensured by

Gears having precision hobbed teeth subject to heat treatment
Antifriction bearings on all high speed rotating parts.
Machined components checked by limit gauges.
Ease of Maintenance

All parts requiring maintenance are made easily accessible
Number of parts requiring frequent maintenance is kept to minimum
Wearing parts can be easily re
moved and replaced thus reducing down time.
Rigid Inspection and Testing

Raw materials are subjected to ultrasonic testing while important weldments are radiographed.
Rigid inspection procedures at all stages of manufacture to ensure unfailing dependability.
Remote Control EOT Cranes
Remote Control Operation is offered with Infra-red. Remote control/Radio frequency remote controls.
Infrared Remote range - upto 50 mtrs. Radion frequency Remote Range - upto 500 mtrs.
Contact Us
A - 216, Kailash Business Park, Powai Vikhroli Link Road, Vikhroli (W), Mumbai, Maharashtra, 400710, India
Phone :91-22-27780101/27780123/27901476