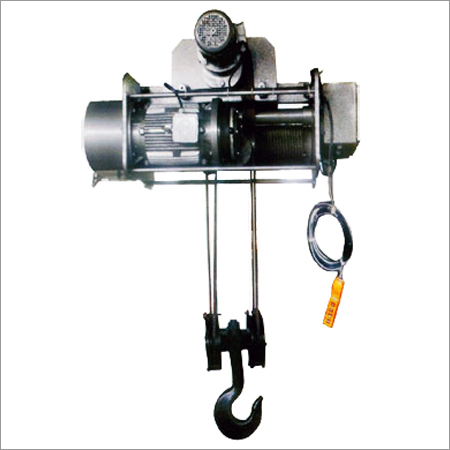 Powered Wire Rope Hoist
Product Code : 02
Product Description
Powered Wire Rope Hoist
Backed by our rich experience in this domain, we are highly engaged in providing an Electric Wire Rope Hoist. Provided hoist are widely used in industrial manufacturing units for material handling. These hoists are highly appreciated for their unique features like robust design, corrosion resistant and occupy less floor space. Our offered hoists are thoroughly checked by our quality controllers on various quality parameters before delivering to our customers end. Moreover, our valued customer can avail these Powered Wire Rope Hoist in various sizes and specification as per the customer's demand at market leading prices.
Features:

CAP 250 Kg To 20 TONNES
Body Plates of our Hoists are machined on VMC's for complete accuracy and interchangeability of parts at the time of maintenance.
Electric Hoist with Radio Remote also available for the ease of use of our clients.



APPROX DIMENSIONS IN MM

CAPACITY IN TONNES

LIFT IN METERS

HOIST MODEL

NO OF FALLS

WIRE ROPE DIA

HOI
STING
MOTOR
HP

HOIS
TING
SPEED

CROSS TRAVEL MOTOR HP

CROSS TRAVEL
SPEED

A

B

C

D

APPROX
WEIGHT
IN KGS.

0.25

6

2

6

0.33

5.5

0.25

15

580

850

400

300

95

9

4

6

0.33

5.5

0.25

15

600

1500

400

300

110

12

4

6

0.33

5.5

0.25

15

650

1730

400

300

120

15

4

6

0.33

5.5

0.25

15

700

1965

400

300

135

0.5

6

2

6

0.75

5.5

0.25

15

580

850

400

300

115

9

4

6

0.75

5.5

0.25

15

600

1500

400

300

125

12

4

6

0.75

5.5

0.25

15

650

1730

400

300

135

15

4

6

0.75

5.5

0.25

15

700

1965

400

300

150

1

6

2

8

1.5

5.5

0.33

15

850

860

560

330

180

9

4

6

1.5

5.5

0.33

15

850

1265

560

330

205

12

4

6

1.5

5.5

0.33

15

850

1425

620

330

225

15

4

6

1.5

5.5

0.33

15

850

1585

620

330

245

2

6

2

10

2

5.5

0.5

15

900

950

730

470

270

9

4

8

2

5.5

0.5

15

900

1385

730

470

300

12

4

8

2

5.5

0.5

15

900

1635

730

470

320

15

4

8

2

5.5

0.5

15

900

1840

730

470

345

3

6

2

12

3

5.5

0.75

15

900

1040

730

520

320

9

4

10

3

5.5

0.75

15

900

1666

730

520

360

12

4

10

3

5.5

0.75

15

900

1945

730

520

385

15

4

10

3

5.5

0.75

15

900

2220

730

520

410

5

6

2

16

5

4

1

12

1100

995

900

550

660

9

4

12

5

4

1

12

1100

1550

900

550

685

12

4

12

5

4

1

12

1100

1795

900

550

710

15

4

12

5

4

1

12

1100

2030

900

550

740

7.5

6

4

14

7.5

4

1.5

12

1200

1395

865

615

780

9

4

14

7.5

4

1.5

12

1200

1675

865

615

835

12

4

14

7.5

4

1.5

12

1200

1950

865

615

870

15

4

14

7.5

4

1.5

12

1200

2230

865

615

910

10

6

4

16

10

4

2

10

1250

1485

865

615

950

9

4

16

10

4

2

10

1250

1795

865

615

1010

12

4

16

10

4

2

10

1250

2100

865

615

1070

15

4

16

10

4

2

10

1250

2420

865

615

1130

12.5

6

4

18

12.5

4

3

10

1250

1570

865

615

1080

9

4

18

12.5

4

3

10

1250

1915

865

615

1170

12

4

18

12.5

4

3

10

1250

2265

865

615

1265

15

4

18

12.5

4

3

10

1250

2609

865

615

1320

15

6

4

20

15

3

10

1250

1485

865

615

1290

9

4

20

15

3

10

1250

1795

865

615

1310

12

4

20

15

3

10

1250

2100

865

615

1405

15

4

20

15

3

10

1250

2420

865

615

1520
Contact Us
A - 216, Kailash Business Park, Powai Vikhroli Link Road, Vikhroli (W), Mumbai, Maharashtra, 400710, India
Phone :91-22-27780101/27780123/27901476